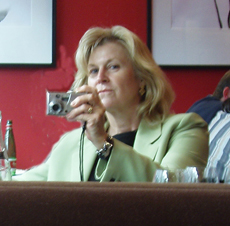 The art of Linda Burgess inhabits that elusive place where memory and reality overlap. With deft brushwork and mastery for depicting light and atmosphere, she lifts elements out of context and elevates them to that of icon. By capturing moments in time the way one remembers them – in fragments that hint at an underlying narrative – Burgess creates visual allegories that are intriguing and evocative.
Linda Burgess is an artist and writer whose career spans more than three decades. She has written for Art & Antiques, ARTnews, and The Washington Review and has exhibited her art extensively in galleries and museums throughout the United States. Her work can be found in public, private and corporate collections, including The National Museum of Women in the Arts, The Mint Museum of Art, The Polaroid International Collection, Zimmerli Museum of Art, and McGraw-Hill Publishing.
She received a BA in art and music from Appalachian State University, and an MFA in painting from Rutgers University, where she studied with Leon Golub. As an Associate Professor of Art, she taught painting at Birmingham-Southern College, and in Riyadh, Saudi Arabia as an Adjunct Professor with the University of New Haven.
Mount Vernon's Magnificent Menagerie and the Very Mysterious Guest, a collaboration with her daughter and artist Maggie Dunlap, is a story for children about George Washington's animals and scheduled for publication October 2012.
Linda Burgess is married to artist, William Dunlap and resides with her family in Florida, Virginia, and Mississippi.